1.  HAVE OTHER WRITERS IN YOUR LIFE
The isolation of writing tends to catch one off guard
With all the voices in our heads, it's hard sometimes to remember we haven't talked to an actual person in days
Having other writers in your life is essential.
Someone who understands this life and won't give you advice that works everywhere else but in publishing.
You've got to find the others
BUT!
They have to be writers who are rooting for you – as you are for them.
A writer friend who is not happy for your successes is really no friend at all.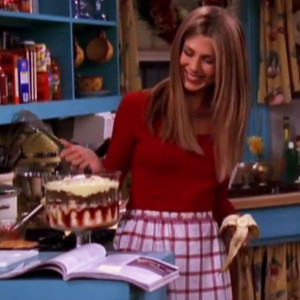 (a writer friend who isn't happy for you?  Is like that meat layer there in Rachel's trifle.  All the ladyfingers and homemade custard in the world, won't cover up the fact that they wish you ill)
2 .    IT DOESN'T GET EASIER, YOU GET BETTER
 Publishing is always going to be how it is – a tantrumming toddler always forgetting what you just gave it, crying, laughing..
Publishing does not get better when…
You get a book deal
When you get two book deals
 When you hit a list
When you get something optioned
When you get something made
 When they ask you to speak at that one conference.
 When you have enough money in the bank
By thinking it's something external (read: publishing), we give over control of our happiness, fulfillment and celebration.
Writing — and the reason you started writing – is where happiness, fulfillment and celebration are rooted.
You must steady yourself from the inside.
3.   SAY YES AND FIGURE IT OUT LATER
I read this in a magazine article about Tina Fey however many eons ago. That this was the best piece of advice she ever got. And I must say, it's turned out to be mine as well.
 Our understanding of what it is we do is way more narrow than it should be.
We speak of other people pigeonholing us and yet we're the biggest culprits of doing just that
 We have this mythology of what it is we're good at. What is in our wheelhouse and what we think we're "known for."

You are not your genre.
You are your voice.
Your voice can transcend any genre
If someone asks you to do or try something you think is outside your comfort zone, just say yes. It might be the thing that changes your stars.
EVER TRIED 
EVER FAILED 
NO MATTER  TRY AGAIN.
TRY AGAIN. 
FAIL BETTER. 
—Samuel Beckett
5.   DANIEL DAY LEWIS WILL NEVER PLAY JAMES BOND
 Daniel Day Lewis is arguably one of the best actors of all time.
 He will never be cast as James Bond                                       

    No matter how good an actor he is.

The lesson?  Sometimes it doesn't matter how good your writing is – it's still not what they're looking for.
However, there is a fine line between knowing when your writing isn't right for the line or imprint and thinking your prose is akin to silver threaded angel whispers and should be cradled in the arms of a thankful audience.
Meaning, could your writing need another pass?
Know the difference
6.    FOLLOW THE FEAR
 This quote is by the fabulous Bobette Buster during her insanely good Do Lecture entitled, Can You Tell Your Story. (That's like 25 minutes – and it's aamaazzing.)
  She states that all stories are about watching someone become fully alive or the living dead.
And where that decision is made – the pivotal moment of your story – is what we know as "the dark night of the soul."
 How do you get to the dark night of the soul?  You follow their fear.
The choice our character makes is the one they resist, and that will set them free.
Follow the fear to lead you to what that choice is and that will lead you to what their dark night of the soul would be.
7.  GO DIRECTLY TO THE BAR
Joan Collins was once asked what to do if to ease the anxiety of arriving at a party by yourself
She said to go directly to the bar.
It gives you something to do (an errand, if you will) and it gives you time to get acclimated to the surroundings.
You also get a drink, so…
8.     YOU DON'T WIN BY PRETENDING TO BE SOMETHING YOU'RE NOT
 I read this Malcolm Gladwell piece in the New Yorker based on his new novel, David and Goliath: The Triumph of the Underdog.
In the Biblical story of David and Goliath, David initially put on armor, a helmet and a sword: he was going to fight Goliath on Goliath's terms.
But then he stopped. "I cannot walk in these, for I am unused to it," he said and picked up those five stones.
 What happens when the underdog acknowledges their weakness and then chooses and unconventional strategy?
They win.
So why fight like Goliath?  IT'S EASIER.
Davids must work harder than Goliaths.
They will challenge the conventions of how things are supposed to be done.
" The price that the outsider pays for being so heedless of custom is, of course, the disapproval of the insider."
9.   JUST LET MELLIE BE MELLIE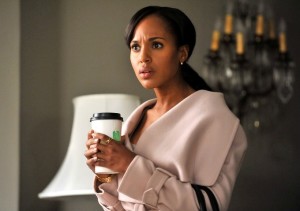 This is Olivia Pope.  She is from the show, Scandal.  She wears the most beauiful white clothes and gives powerful speeches, usually while drinking tea
Olivia has a racy past with the President of the United States.
Much to the chagrin of the First Lady, Mellie.
At one point, shit goes down and Olivia and the President's Chief of Staff are on the outs with the President.

Mellie takes this opportunity to worm her way into the President's good graces.
The Chief of Staff laments this turn of events to Olivia and wonders what they can do to get Mellie out and them back in to the Oval Office.
Olivia simply says, "Just let Mellie be Mellie."
People are who they are.  They're not hiding their true colors… for long.
You may know someone who is terrible or untalented or not deserving of their success, but constantly wonder why no one else seems to know this (or just isn't talking.)
Just let Mellie will be Mellie.
The truth will out.
Another way of saying this is from Sun Tzu's book, The Art of War:
"If you wait by the river long enough, the bodies of your enemies will float by."

As with all writing advice, you should take what you need and leave the rest.  No one way works and all of this is just here if you need it.  If you're having your own personal literary dark night of the soul, hopefully one of these pieces of advice can help you out of the quicksand… even for just a moment.

*I was lucky enough to present this at the March, 2013 meeting of the OCC/RWA.  Thank you so much for having me, guys.  






by